SFX - linking service
Your shortcut from search queries to publications
With the linking service SFX Bayreuth University Library offers a fast and comfortable way from your search query to the document you are searching. SFX is a software from ExLibris, which establishes context-related connections between databases.
Without SFX you have to transfer the bibliographic references you found via databases and search engines in a first search query into the library catalogues and other databases to find out how and where to access the publications. Using SFX, you can now access them more easily.
In many databases, you will find the SFX or Open URL button in your search results. This button redirects you to a service page, which is unfortunately only available in German. Here you get different links, depending on the availability of the publications in question:
elektronischer Volltext, Abstract oder Inhaltsverzeichnis (electronic fulltext, abstract or table of contents) - if available at the University of Bayreuth
Das will ich haben! (Get item!): redirection to interibrary loan or the catalogue of Bayreuth University Library
Link to the Elektronische Zeitschriftenbibliothek (EZB) (electronic journal database) for freely available journals or journals not subscribed by the University of Bayreuth
Link to academic search engines (wissenschaftliche Suchmaschinen)
Link to our feedback form (Fragen und Anregungen)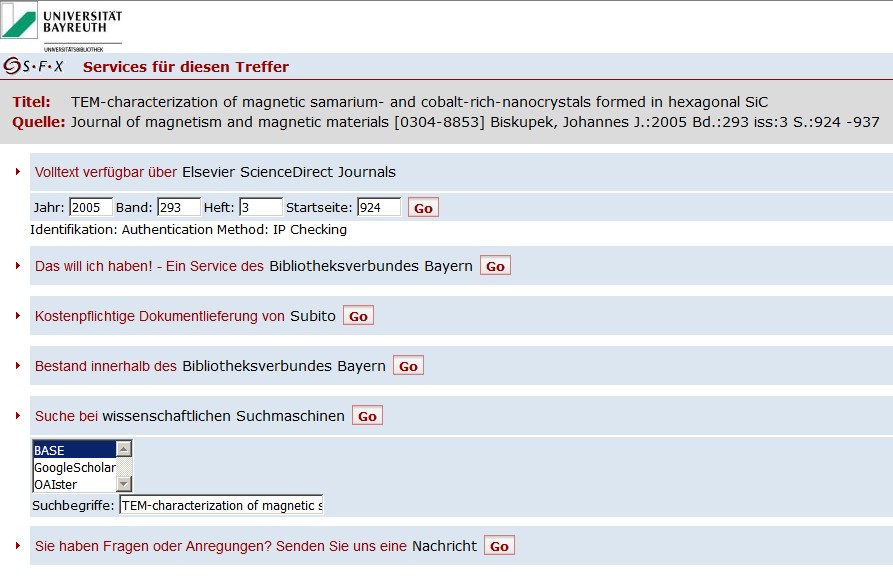 Click on the icon

to open the corresponding link. Ideally, your search data will be automatically transferred to the search masks of the respective databases.
If no electronic full text is offered, please click on Das will ich haben! (Get item!). If the required publication is not available at Bayreuth University Library, you have the option of placing an interlibrary loan request.
If you have any questions regarding SFX, please contact Wiltrud Toussaint. For information on literature search contact our information desk.