University Library Catalogue
The Library Catalogue provides a local library portal with a single interface for searching through the collections of the Bayreuth University Library (and other libraries). Useful advice for the search is provided by the integrated help function of the catalogue or the information sheet "The Library Catalogue" on our homepage.

Local holdings
In the first tab "Catalogues" research results for books, newspapers and journals which are available in print or online from Bayreuth University Library are displayed.

Articles
The second tab "Articles & more" contains articles (from journals, congress proceedings, subject specific databases etc.) which can be accessed as full texts if the contents are subscribed to by the University Library. In this database index, containing hundreds of millions of entries, the contents of many renowned scientific databases and publishers of academic journals are collected.
In order to find such an article, which is not available via the second tab, please search for the title of the journal or the edited volume in which the article was published; if the title is unknown, please see information on databases.

Searching through collections of other libraries

Furthermore, the UB-Katalog is a library portal, which offers the possibility to search through the following library catalogues and databases:
Bavarian Library Union (BVB) with Berlin-Brandenburg: Gateway Bayern
Union Catalogue South-Western Germany (SWB)
Union Catalogue Western Germany (HBZ)
Union Catalogue Northern Germany (GBV)
Union Catalogue Hessia (HeBIS)

By following the link "Expand search (ILL available)" these catalogues and databases can be searched and the collections are available for interlibrary loan. (See our information about interlibrary loan.)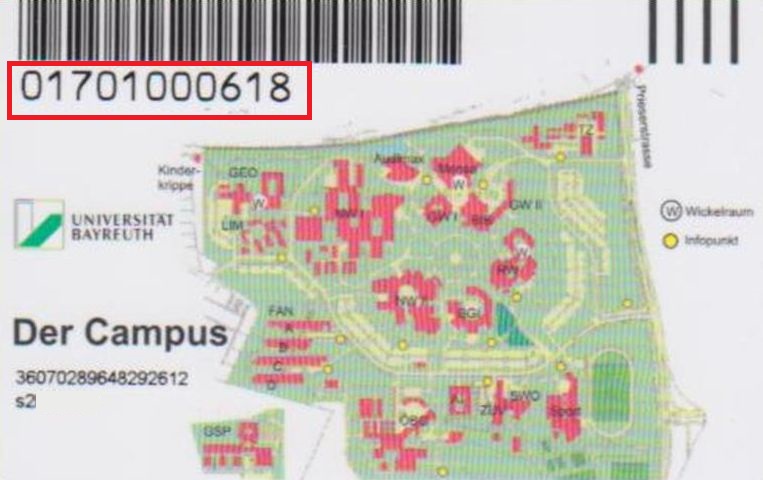 User number and password

The user number is on the reverse of your Campus-Card below the barcode. It is needed to log on to the catalogue, to order books or to have access to your account. For different user groups different types of passwords apply.

The default password for students is the date of birth in six digits, e.g. 031093, when you were born on 3rd October 1993.

The default password for university staff and external users consists of the last six digits of the user number.

We recommend to change the default password. You can do that in the Library Catalogue menu "My details" - "User details".

In case you forgot your password, please contact the information team by e-mail or by phone.